Inspired by the spirit of nature around me—through landscapes, houseplants, intuition, and life experience—learn more and purchase copies of my self-reflection card decks below.
Landscape Archetype Intuition Cards
As the ancient hermetic saying goes, "As above, so below, as within, so without, as the universe, so the soul…" Our inner and outer worlds mirror each other. The bridge between these worlds is found in the energetic patterns of archetypes.
The symbolism of landscape archetypes is a common part of our languages to describe emotions and life circumstances. My Landscape Archetypes Intuition Cards Deck draws on this wisdom from our collective unconscious.
Landscapes are powerful in that they transcend the boundaries of inside and outside, sacred and profane, individual and collective. The state of our external landscapes reveals both the poignant resonance as well as the disharmony of our collective psyches–an important point to know in navigating the Age of the Anthropocene and our climate crisis.
Therefore, tending to these landscapes is also about reintegrating humanity's interconnectedness with each other and with the world. This deck of cards is intended to aid us in this process of intuitive tending.
Standard tarot-sized cards (2.75 x 4.75 inch) packaged in a professional box with insert
Includes 55 cards (43 landscape archetypes, 4 seasons, 4 times of day, and 4 environmental roles) plus information booklet
Price: $41.99 USD (physical) / $8.99 USD (digital)
Order print-on-demand at The Game Crafter (4+ weeks production and delivery)
Get the digital version on the Deckible App for IOS or Android
Houseplant Wisdom Self-Reflection Cards
Do you talk to your houseplants? Do you ever wonder what they would say to you in response to your inquiries? …About your affection towards them? Or maybe your negligence or cluelessness about their needs? If so, this deck was made for you!
Us humans can learn a lot about being alive from other forms of nature, but we don't always need to seek the gurus in the wilderness to find that deep wisdom.
In their quiet perceptiveness of being alive and being loved by you, your beloved houseplant buddies have mastered many lessons about existence. Give them a chance to teach you about worthiness, self-care, and being open to the magic of life in my Houseplant Wisdom Self-Reflection Cards Deck.
Square cards (3.5 x 3.5 inches) packaged in a tuck box.
Includes 35 cards and an information pamphlet.
Price: $25.99 USD (print) / $6.99 USD (digital)
Order print-on-demand at The Game Crafter (4+ weeks production and delivery)
Get the digital version on the Deckible App for IOS or Android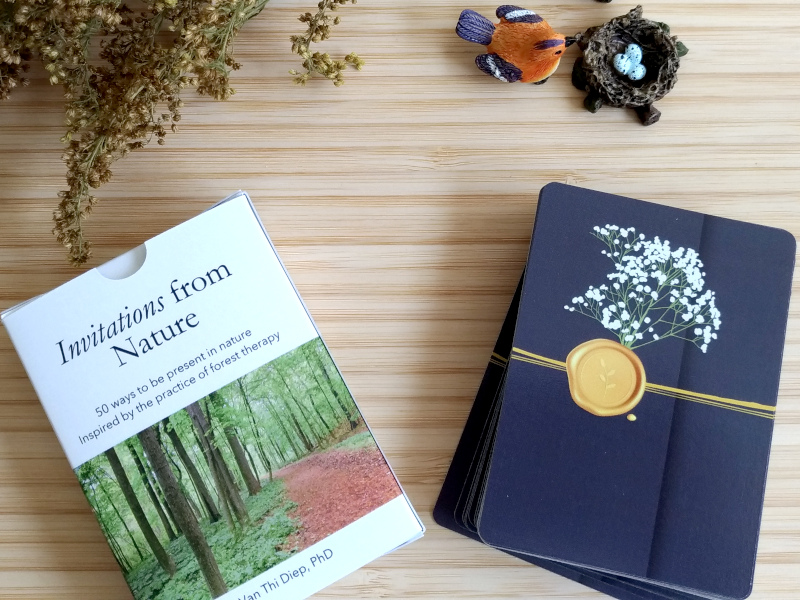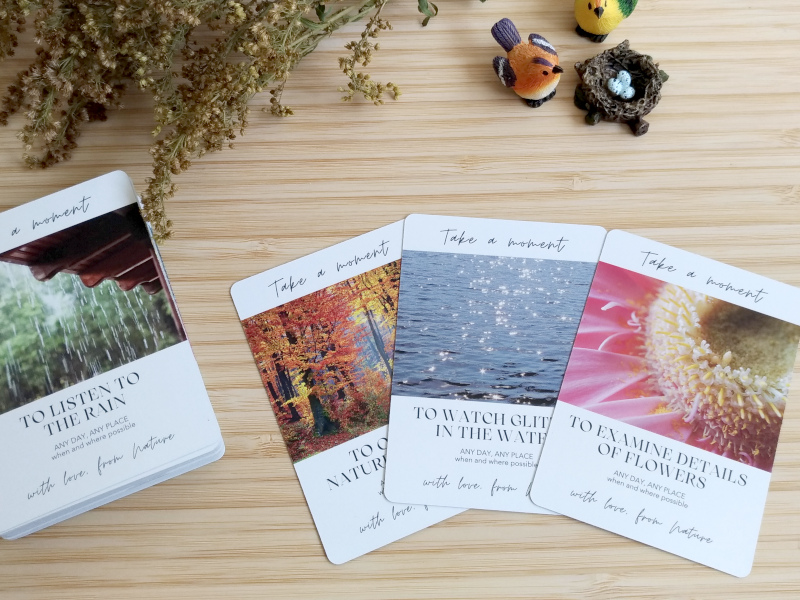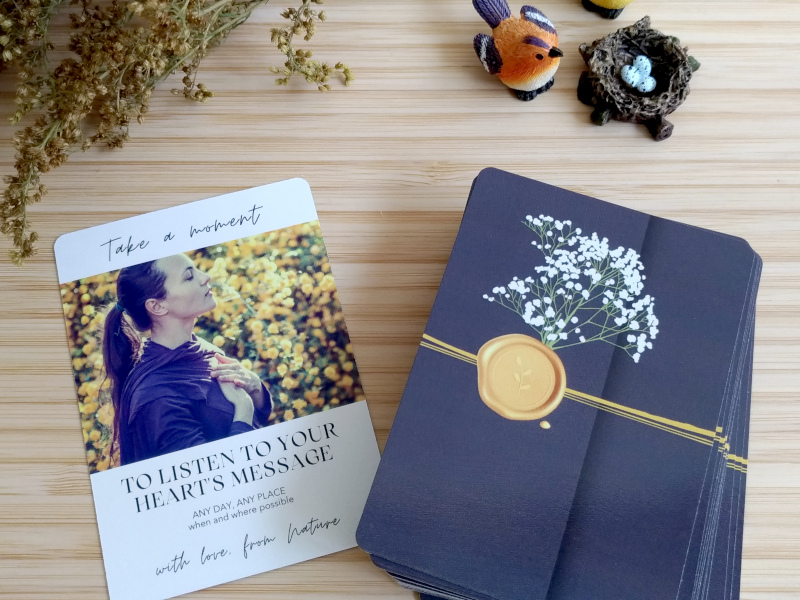 Invitations from Nature – Forest Therapy Inspired Card Deck
Nature is always offering us invitations to participate with her attentively in the present moment. By being present with nature, including our own nature, we are repairing and nourishing the relationships we have with ourselves and others, the more-than-human world, and our sense of time.
This card deck is a collection of 50 prompts to remind you of the simple but significant ways you can return to nature through your senses. Also included are 2 information cards about forest therapy and the power of invitations.
Cards are poker sized (2.5 x 3.5 inches) and come in a tuck box. Watch the promotional video on Youtube!
Price: $24.99 USD (physical)
Order print-on-demand at The Game Crafter (4+ weeks production and delivery)